Contact us!
+39 0918400258
10am to 1pm - 4pm to 8pm (GMT+1 Italy)
Enquire about this product...
Jasper Morrison
Vitra

HAL Wood Chair
Vitra HAL Wood Chair designed by Jasper Morrison. Buy online at the best price or ask us for a quote.
WE SHIP WORLDWIDE
Add the products to cart or quote and select your country to get an extimation of the shipping cost. We are able to provide White Glove Delivery service, do not hesitate to ask us for a quote.
More Info...
WELCOME DISCOUNT / 10%
Sign Up to our Community and get a discount coupon of 10% for the first order. You will receive it via email.
Sign-Up +
RETURN POLICY
You have the right to cancel this contract within 14 days without giving any reason.
More Info...
Details
Dimensions (cm)

51x47xH80.
Materials & finishes

Leather, Wood
Vitra HAL Wood chair was designed by Jasper Morrison in 2010-2014. The striking combination of a plastic seat shell and four-legged wooden base lends the chair its unique character. The comfortable seat shell is available in a selection of colours, whilst the chair legs come in a choice of three high-quality woods.The shape of the seat shell provides great freedom of movement in a variety of sitting positions – even sideways or astride the chair.
Special is generally less useful than normal': this statement sums up Jasper Morrison's guiding principle for creating designs that are 'super normal' rather than extraordinary, showing deference to the dictates of daily life – just like HAL. The 15 different chair bases can be combined with a seat shell in polypropylene (HAL), in plywood (HAL Ply) or with a lightly padded shell covered in leather (HAL Leather). In the versions with a polypropylene shell and powder-coated base, HAL is also suitable for use in outdoor settings. As additional options, a fabric seat cover in various colours is available for all versions of HAL, and models with a plastic seat shell can be outfitted with a fixed seat cushion.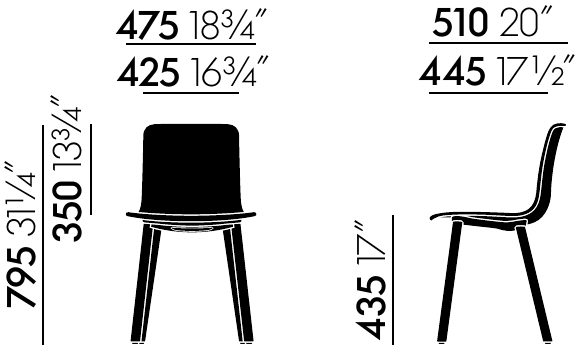 Jasper Morrison lives and works in London and Tokyo. His designs are expressions of the 'super normal' design philosophy: rather than seeking unusual or extravagant results, he often breathes new life into proven solutions by means of reinterpretation, further development and refinement. He has worked together with Vitra on a regular basis since 1989.
Material description
Glides: colour matched to the small attachment parts for the seat shell, choice of white (except HAL Wood and HAL Ply Wood) or basic dark. All bases fitted with glides for carpet; felt glides optionally available for hard floors.
Seat shell: dyed-through polypropylene, with optional seat cushion (screwed to the seat shell).
Base: non-stackable wooden base in natural oak, dark oak or black-pigmented walnut. Connecting element between shell and base in die-cast aluminium, powder-coated in dim grey.
Origin of wood: oak (Quercus robur) from Western Europe and/or Poland; American walnut (Juglans nigra) from the USA.