Contact us!
+39 0918400258
10am to 1pm - 4pm to 8pm (GMT+1 Italy)
Enquire about this product...
Vitra

Softshell Chair Chair
Vitra Softshell Chair Chair designed by . Buy online at the best price or ask us for a quote.
WE SHIP WORLDWIDE
Add the products to cart or quote and select your country to get an extimation of the shipping cost. We are able to provide White Glove Delivery service, do not hesitate to ask us for a quote.
More Info...
WELCOME DISCOUNT / 10%
Sign Up to our Community and get a discount coupon of 10% for the first order. You will receive it via email.
Sign-Up +
RETURN POLICY
You have the right to cancel this contract within 14 days without giving any reason.
More Info...
Details
Dimensions (cm)

62x56x82.
Materials & finishes

Aluminium, Fabric, Plastic
Vitra Softshell Chair was designed by Ronan & Erwan Bouroullec in 2008. The Softshell Chair by Ronan and Erwan Bouroullec will surprise users with its exceptional comfort: flexible ribs are concealed in the back shell and adapt to the user, providing freedom of movement. The four-legged version of the elegant, lounge-style chair can be combined with a wide selection of dining tables.
The seat construction of the Softshell Chair ensures a level of comfort that is first revealed upon use: vertical ribs concealed in the back shell adapt to the user, providing freedom of movement as well as superb comfort, even for prolonged periods of sitting. The smooth contours and appealingly soft upholstery over the entire surface give the Softshell Chair its calm, cosy and inviting character.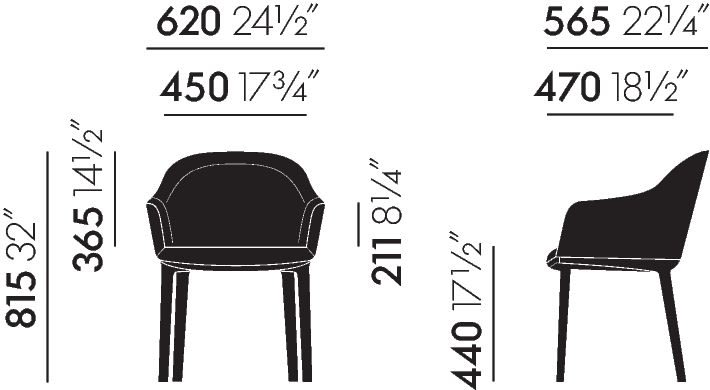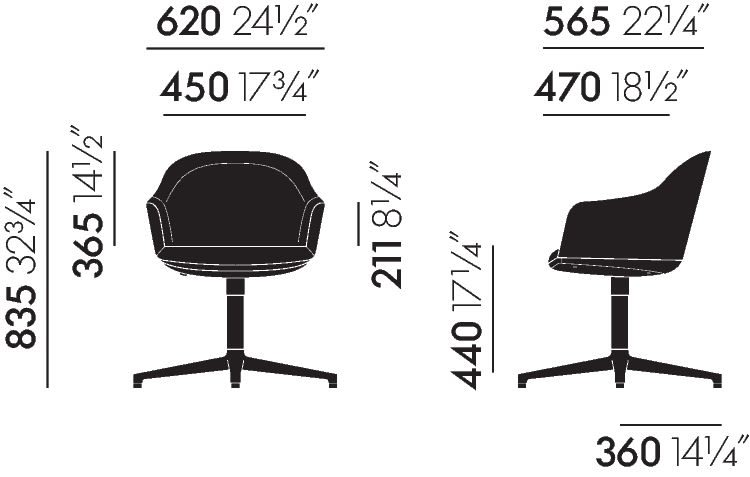 The brothers Ronan and Erwan Bouroullec live and work in Paris. Their oeuvre ranges from small everyday objects to architectural projects. They have worked with Vitra since 2000 and have contributed numerous designs to both the office and home collections.
Material description
Backrest and seat: flexible upper backrest shell. Seat and backrest shell in fibreglass-reinforced polyamide. Seat and backrest upholstery in polyurethane foam. Armrests are integrated in the seat shell. Version in Laser fabric and in leather with two seams along the sides of the backrest.
Four-legged base: polyamide in chocolate or basic dark with glides.