Contact us!
+39 0918400258
10am to 1pm - 4pm to 8pm (GMT+1 Italy)
Enquire about this product...
Ronan & Erwan Bouroullec
Vitra

Belleville Chair
Vitra Belleville Chair designed by Ronan & Erwan Bouroullec. Buy online at the best price or ask us for a quote.
WE SHIP WORLDWIDE
Add the products to cart or quote and select your country to get an extimation of the shipping cost. We are able to provide White Glove Delivery service, do not hesitate to ask us for a quote.
More Info...
WELCOME DISCOUNT / 10%
Sign Up to our Community and get a discount coupon of 10% for the first order. You will receive it via email.
Sign-Up +
RETURN POLICY
You have the right to cancel this contract within 14 days without giving any reason.
More Info...
Details
Dimensions (cm)

49x55xH83.
Materials & finishes

Fabric, Leather, Steel, Wood
Vitra Belleville chair and armchair were designed by Ronan & Erwan Bouroullec in 2015. The Belleville Chair is a technically sophisticated plastic chair consisting of two components - a structural frame and a seat shell. Tracing the calligraphic lines of the legs and back, the slender black frame supports a thin shell that tapers from the wide seat surface into a narrow backrest. This type of construction opens up new perspectives for the materiality of the plastic chair, since the surface of the seat shell is the defining characteristic of the Belleville Chair's identity: available in coloured polypropylene, moulded plywood veneer or with a cover in leather or fabric, the perception of the Belleville Chair is transformed from a plastic chair to a wooden chair to an upholstered chair - and even to an armchair with forward slanting armrests.
Belleville is the name of the vibrant Paris neighbourhood where the designers Ronan and Erwan Bouroullec have their studio. Visual references for the Belleville Chair can be found in the classic French bistro furnishings and lively atmosphere of this Parisian quarter. The chair's familiar shape - even in a contemporary context - might at first be taken for granted, yet it also evokes a sense of mystery and bemusement, since the materiality, construction and fabrication of the chair only become apparent at second glance.
The brothers Ronan and Erwan Bouroullec live and work in Paris. Their oeuvre ranges from small everyday objects to architectural projects. They have worked with Vitra since 2000 and have contributed numerous designs to both the office and home collections.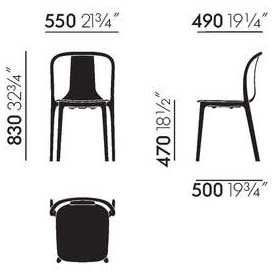 Material description
Seat shell, base and frame: injection-moulded polyamide. Stackable up to 6 high.