Contact us!
+39 0918400258
10am to 1pm - 4pm to 8pm (GMT+1 Italy)
Enquire about this product...
Antonio Citterio
Vitra

ID Soft Chair
Vitra ID Soft Chair designed by Antonio Citterio. Buy online at the best price or ask us for a quote.
WE SHIP WORLDWIDE
Add the products to cart or quote and select your country to get an extimation of the shipping cost. We are able to provide White Glove Delivery service, do not hesitate to ask us for a quote.
More Info...
WELCOME DISCOUNT / 10%
Sign Up to our Community and get a discount coupon of 10% for the first order. You will receive it via email.
Sign-Up +
RETURN POLICY
You have the right to cancel this contract within 14 days without giving any reason.
More Info...
Details
Dimensions (cm)

76x94xH110.
Materials & finishes

Fabric, Steel
Vitra ID Soft is an office chair designed by Antonio Citterio in 2010-2016. The fully upholstered backrest of ID Soft ensures a high level of comfort, while its clean lines and reductive forms lend the chair an understated presence. As a result, ID Soft harmonises well with diverse architectural environments. The backrest of this office chair is height-adjustable, thus providing even very tall users with adequate support in the upper shoulder region.
The ID Chair Concept offers countless customisation options to suit individual users. Different variations of the FlowMotion mechanism, a selection of backrests, armrests, seats and bases, along with a broad array of colours and fabrics, enable every user and company to find the perfect ID Chair – whether for an open-plan setting, individual or team offices, conference areas or management offices.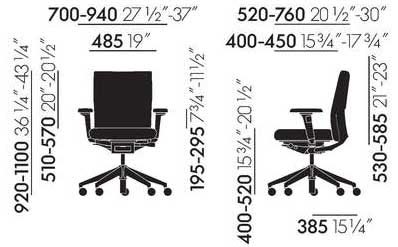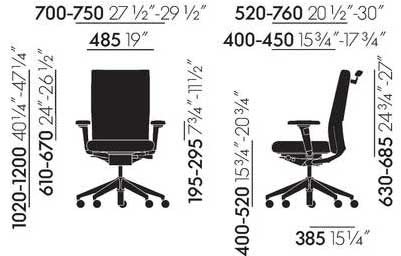 The architect and designer Antonio Citterio, who lives and works in Milan, has collaborated with Vitra since 1988. Together they have produced a series of office chairs and various office systems, as well as products for the Vitra Home Collection. The Citterio Collection is constantly being expanded.
Material description
Office swivel chair with 2D or 3D armrests in accordance with EN 1335, Ergonomic Seal of Approval. The version equipped with the FlowMotion mechanism with forward tilt and seat depth adjustment complies with BS 5459-2 (24-hour test).
Mechanical unit: FlowMotion mechanism, can be locked in the upright sitting position. Mechanical unit matches the frame colour (basic dark or soft grey). Optionally available with or without synchronised forward tilt (can be disengaged) and with or without seat depth adjustment. Individual adjustment of backrest resistance and forward tilt.
Backrest: height-adjustable backrest in polyamide (basic dark or soft grey) with padded cushion in polyurethane foam. Seat cover in woven fabric or 3D spacer fabric.
Armrests: 2D armrests with adjustable height and width or 3D armrests with adjustable height, width and depth and 360° swivel function. Armrest supports in polished aluminium. Armrest sleeves in polyamide matched to the frame colour (basic dark or soft grey). With polyurethane pads in basic dark (for frames in basic dark) or dim grey (for frames in soft grey). Optionally available with ring armrests in polished die-cast aluminium, with or without height adjustment, for use in conference areas. For height-adjustable ring armrests, armrest supports in polyamide are matched to the frame colour (basic dark or soft grey).
Seat: polyurethane foam upholstery. Optionally available with contoured seat. Seat and back covers in woven fabric or 3D spacer fabric.
Base: five-star base in polyamide (basic dark) or polished die-cast aluminium, equipped with double castors (Ø 60 mm) or glides.
Conference version: conference chair with four-star swivel base in polished die-cast aluminium on glides in accordance with EN 16139. FlowMotion conference mechanism (no forward tilt, no seat depth adjustment) with individual adjustment of backrest resistance; fixed seat height with shock-absorbing seat suspension for added comfort.