Contact us!
+39 0918400258
10am to 1pm - 4pm to 8pm (GMT+1 Italy)
Enquire about this product...
Konstantin Grcic
Vitra

Allstar Chair
Vitra Allstar Chair designed by Konstantin Grcic. Buy online at the best price or ask us for a quote.
WE SHIP WORLDWIDE
Add the products to cart or quote and select your country to get an extimation of the shipping cost. We are able to provide White Glove Delivery service, do not hesitate to ask us for a quote.
More Info...
WELCOME DISCOUNT / 10%
Sign Up to our Community and get a discount coupon of 10% for the first order. You will receive it via email.
Sign-Up +
RETURN POLICY
You have the right to cancel this contract within 14 days without giving any reason.
More Info...
Details
Dimensions (cm)

74x61xH95.
Materials & finishes

Fabric, Steel
Vitra Allstar chair was designed by Konstantin Grcic in 2014. The Allstar office chair by Konstantin Grcic imparts a relaxed home-like feel and sense of familiarity. Its rounded form exudes comfort and yields a calming influence on the fast-paced dynamic of today's offices. Allstar also satisfies all the necessary functions of a task chair, allowing it to be used wherever high functional performance is desired but a classic office chair would not be appropriate for aesthetic reasons – an especially ideal choice for modern workplace concepts.
The Allstar chair defies conventional categorisations: is it a chair for office workplaces or the home office? What period is it from? Does it fulfil specific functions? What is it made of? In developing Allstar, Konstantin Grcic kept such formulations open in order to create a relaxed, home-like ambience for workers in office settings. Allstar's appealing design is emblematic and familiar, inspiring a sense of dependability and trust. Its casual ease and comfort has a calming influence and de-accelerates the fast-paced dynamic of today's offices.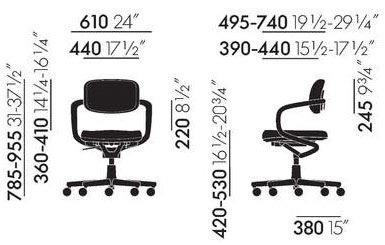 Allstar also discreetly conceals the necessary functional features of an office chair: a synchronised mechanism with lockable positioning, adjustability of seat height and depth, and an adjustable backrest. The stout loop frame made of robust plastic simultaneously performs the function of armrests, backrest support and extended arm of the mechanical unit. It enables the separate movement of seat and backrest and transfers the load forces to the mechanical unit under the seat. The organically shaped cushions of the seat and back work together with the technical functions to ensure a high level of comfort. Thus Allstar is suited to a wide variety of settings where high functional performance is desired but a classic office chair would be inappropriate for aesthetic reasons – making it an ideal choice for modern workplace concepts or coworking spaces as well as home offices.
Konstantin Grcic was trained as a cabinetmaker at Parnham College in Dorset before studying industrial design at the Royal College of Art in London. In 1991 he set up his own practice, Konstantin Grcic Design. The Vitra Design Museum devoted a monographic exhibition to Grcic and his work in 2014.
Material description
Office swivel chair in accordance with EN 1335.
Backrest and seat: backrest in polyamide, coated with polyurethane foam. Backrest height adjustable up to 5 cm using a quick release lever. Seat with contouring on the front edge, consisting of a polyamide seat plate and polyurethane foam. Covers in fabric or leather, freely stretched over the surfaces of the seat and backrest.
Armrest/back bracket: loop frame made of polyamide that simultaneously serves as the armrest structure, backrest support and extended arm of the mechanical unit. Available in 4 colours.
Mechanical unit: the synchronised mechanism can be locked in the upright position. Equipped as standard with seat height and seat depth adjustment. Plastic in the colour deep black.
Base: five-star base in polyamide (deep black) with double castors (Ø 60 mm, basic dark).