Contact us!
+39 0918400258
10am to 1pm - 4pm to 8pm (GMT+1 Italy)
Enquire about this product...
Alberto Meda
Vitra

AM Chair Chair
Price
Regular Price: $581.31
Special Price $523.17
Vitra AM Chair Chair designed by Alberto Meda. Buy online at the best price or ask us for a quote.
WE SHIP WORLDWIDE
Add the products to cart or quote and select your country to get an extimation of the shipping cost. We are able to provide White Glove Delivery service, do not hesitate to ask us for a quote.
More Info...
WELCOME DISCOUNT / 10%
Sign Up to our Community and get a discount coupon of 10% for the first order. You will receive it via email.
Sign-Up +
RETURN POLICY
You have the right to cancel this contract within 14 days without giving any reason.
More Info...
Details
Dimensions (cm)

82x71xH120.
Materials & finishes

Fabric, Steel
Vitra AM Chair was designed by Alberto Meda in 2016. The AM Chair is the combined result of engineering skill, quality design and experience, uniting ergonomic functionality with technical elegance. Dynamic armrests and a height-adjustable back give the chair an emblematic appearance, while the slender plastic frame and translucent mesh cover bestow a sense of lightness and grace. At the same time, the AM Chair strictly adheres to functional requirements and eschews structurally superfluous elements.
The AM Chair is an economical tool for today's office needs. Its synchronised ProMotion mechanism automatically responds to the respective user's weight, providing optimum personalised comfort without any prior adjustments. Simple, intuitive controls can be used for additional fine-tuning. The height-adjustable backrest provides both stability and flexibility, and its ergonomic contours ensure healthy seating. The pleasantly upholstered, perfectly moulded seat provides immediate comfort when sitting down.
With numerous individual adjustment options, the AM Chair is an ideal task chair for prolonged periods of sitting at a permanent desk, but thanks to its excellent immediate comfort, it is also well suited for touchdown workstations with frequently changing users.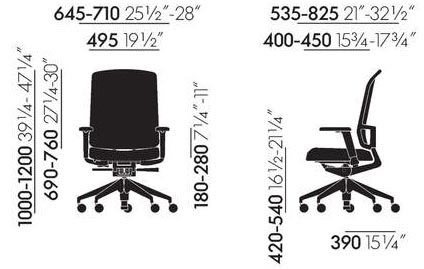 Alberto Meda lives and works in Milan. He teaches at IUAV University of Venice and lectures at leading design colleges and institutions. He has worked together with Vitra since 1994. During this time, his elegant designs for office chairs and a variety of tables have made a significant contribution to the success of Vitra's Office Collection.
Material description
Office swivel chair with 2D or 3D armrests in accordance with EN 1335, Ergonomic Seal of Approval (LGA Nuremberg).
Seat mechanism: ProMotion mechanism, lockable in upright position. Synchronised mechanism with automatic weight adjustment and manual fine tuning of backrest resistance via 180° rotation. Equipped as standard with seat height and seat depth adjustment. Optionally available with or without spontaneous forward tilt (can be disengaged).
Seat: seat plate made of polyamide; contoured seat cushion made of polyurethane foam; fabric cover.
Back: mesh backrest in LightNet, stretched over frame; fabric backrest in Plano (reverse side in Verso fabric, colour sierra grey). Polyamide backrest frame in deep black. Height-adjustable backrest as a standard feature.
Armrests: 2D armrests with adjustable height and width or 3D armrests with adjustable height, width and depth. Armrest supports in polyamide with polyurethane pads, both in deep black.
Base: five-star base in polyamide (deep black) or in powder-coated aluminium (deep black). Equipped with double castors (Ø 60 mm).
Accessories: polyamide headrest (deep black) with polyurethane pad (deep black), retrofit option. Clothes hanger in polyamide (deep black), retrofit option (max. weight load: 2 kg). Headrest and clothes hanger can be used separately or combined.