Contact us!
+39 0918400258
10am to 1pm - 4pm to 8pm (GMT+1 Italy)
Enquire about this product...
Jean-Marie Massaud
Poltrona Frau

Archibald King Armchair
Poltrona Frau Archibald King Armchair designed by Jean-Marie Massaud. Buy online at the best price or ask us for a quote.
WE SHIP WORLDWIDE
Add the products to cart or quote and select your country to get an extimation of the shipping cost. We are able to provide White Glove Delivery service, do not hesitate to ask us for a quote.
More Info...
WELCOME DISCOUNT / 10%
Sign Up to our Community and get a discount coupon of 10% for the first order. You will receive it via email.
Sign-Up +
RETURN POLICY
You have the right to cancel this contract within 14 days without giving any reason.
More Info...
Details
Dimensions (cm)

89 x 79 x h101.
Materials & finishes

Leather, Polyurethane, Steel
The icon chair Archibald King created by Jean-Marie Massaud for Poltrona Frau today goes royal. Important, majestic, fit for royalty. A distinguishing large headrest takes up on the elegant folds of the backrest featured throughout the collection. Thus the pleasantly undulating leather is embellished along the edges and external surfaces of the upholstery with contrast stitching, giving it a refined, elegant appeal. The frame of the backrest and seat is in steel with moulded polyurethane foam padding, and shaped foam with polyester wadding in the zones where more comfort is needed. Springing is obtained from elastic belts and the base is made up of four feet in cast aluminium with a tubular steel frame in a gunmetal grey finish. The upholstery is in Pelle Frau® leather.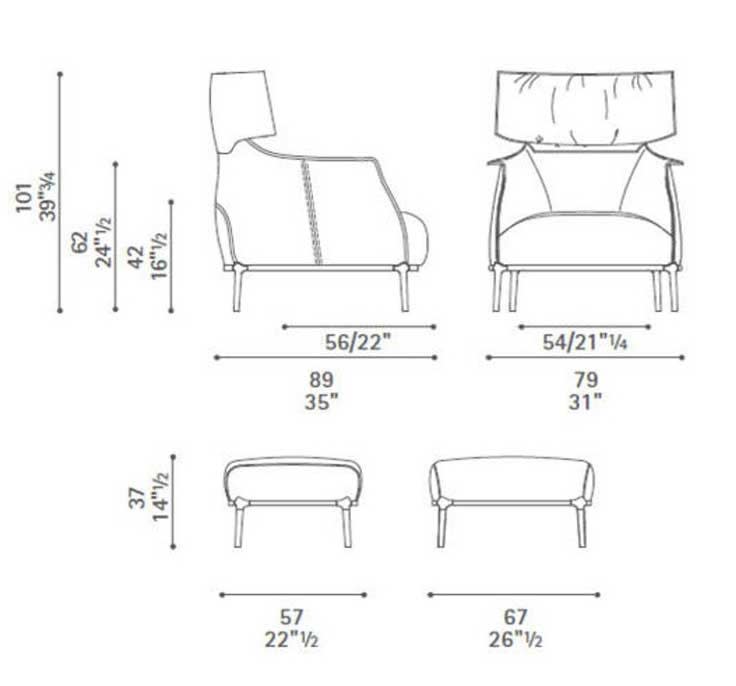 Pelle Frau® SC - Color System Frau®. Pelle Frau® leather means colour, too. The planned colours of the Colour System: a co-ordinated range of 90 different nuances of colours, characterised by the ease with which the various colours can be matched up. In turn, for those who prefer the artificial vocabulary of colour, this allows for the creation of harmonious combinations of the shades both among different pieces of furniture and within the same object. Poltrona Frau has achieved the perfect balance of natural material and surface dressing treatments thanks to its specific technical research and vast experience. Passing time will confer elegance on Color System by Pelle Frau®, with its interesting sensory profile, resistance characteristics and for its excellent performance during use, as well as offering easy maintenance.
Pelle Frau® Soul. Pelle Frau® Soul, the excitement of contact. The very essence of the material. Warmth, softness, the aroma of natural leather, in a timeless, sensorial experience. Warm, deep colours in all natural tones. Pelle Frau® Soul is an aniline-dyed full grain leather with no surface finishing. It stands out for its transparency and full colours that reveal, thanks to its natural photo-sensitive characteristics, a depth of tone and warmth, the softness and naturalness of a live material. These points of prestige, blended with the natural imperfections of the leather, guarantee uniqueness and quality. Only a select group of valuable raw bovine hides of European origin with a limited number of flaws (scars, few pores, wrinkles, insect bites, etc.) can become Pelle Frau® Soul leather. Only 10 out of 100 hides allow their natural features to shine through and become Pelle Frau® Soul leather. The more transparent the leather, the more it will improve over time, ageing in a dignified manner. Because no leather is equal to another, and every product upholstered with Pelle Frau® Soul leather will be unique. The Pelle Frau® Soul leather characteristics make it unsuitable for exposure to direct sunlight or heat sources, and accidental stains will be difficult to remove. We advise using a soft, dry cloth for cleaning.
Pelle Frau® Nest stands out for the transparency and fullness of its colours, the warmth, natural and soft feel of the live material. Hardwearing structure with a clear character. Masterful artisan manufacture, which even before tanning starts with apainstaking selection of the very best leather to ensure its characteristic elegant shine, defined as 'millepunte' (a thousand dots) in tanners' jergo. Clear, deep grain with a two-colour effect. Pelle Frau® Nest is a full grain, semi-aniline, lightly coated leather. The drum dye gives the material a transparency and fullness of colour. The colour leaves all the pretty little irregularities untouched, allowing the natural surface movements to shine through.
Pelle Frau® Century. Ogni piega, ogni sfumatura, ogni segno è un libro aperto per chi lo sa leggere e interpretare. Solo questa pelle, sottoposta a lunghe ore di lavorazione artigianale e ad una speciale tintura, può raccontare cento anni di storia e avvolgere fin d'ora una Vanity Fair o una 1919 con il fascino unico degli oggetti vissuti nel tempo. Proprio come le pagine di un volume amato, sfogliate a lungo. Lette e rilette. Contrassegnate da piccole note a margine nei punti che più hanno colpito la mente, suscitando altri pensieri, evocando altri ricordi e immagini. Pelle Frau® Century viene proposta nelle due tonalità Tabacco e Piombo, entrambe calde ed eleganti, ed è disponibile per il rivestimento di una ristretta selezione di arredi icona: Chester One, Lyra, 1919, Vanity Fair, Archibald e Juliet.