Contact us!
+39 0918400258
10am to 1pm - 4pm to 8pm (GMT+1 Italy)
Enquire about this product...
Ronan & Erwan Bouroullec
Vitra

L'Oiseau Decorative objects
Vitra L'Oiseau Decorative objects designed by Ronan & Erwan Bouroullec. Buy online at the best price or ask us for a quote.
WE SHIP WORLDWIDE
Add the products to cart or quote and select your country to get an extimation of the shipping cost. We are able to provide White Glove Delivery service, do not hesitate to ask us for a quote.
More Info...
WELCOME DISCOUNT / 10%
Sign Up to our Community and get a discount coupon of 10% for the first order. You will receive it via email.
Sign-Up +
RETURN POLICY
You have the right to cancel this contract within 14 days without giving any reason.
More Info...
Details
Dimensions (cm)

24x6x15.
Materials & finishes

Wood
Vitra L'Oiseau was designed by Ronan & Erwan Bouroullec in 2011.L'Oiseau is available as a wooden bird made of milled maple and sanded to a smooth finish, or as a ceramic figure in a choice of colours. Considerable craftsmanship goes into the fabrication of each piece, making it a unique object with individual characteristics.
Motifs drawn from nature have played an important role in interior furnishings since the earliest examples known to us, and natural forms and structures have also been a recurring theme in the work of Ronan and Erwan Bouroullec. L'Oiseau, an avian figure of archaic simplicity, is reminiscent of the unpretentious artefacts of Nordic folk art. Its sleek form attractively enriches contemporary interiors without the cuteness or even tackiness so commonly associated with animal figures.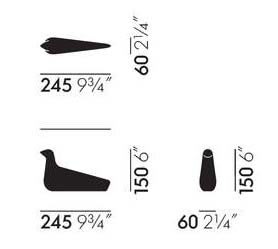 Material description
Material: ceramic with glazed finish, or solid maple wood.
Origin of wood: maple (Acer platanoides) from Western Europe and/or Poland.