Contact us!
+39 0918400258
10am to 1pm - 4pm to 8pm (GMT+1 Italy)
Enquire about this product...
George Nelson
Vitra

Marshmallow Sofa Sofa
Vitra Marshmallow Sofa Sofa designed by George Nelson. Buy online at the best price or ask us for a quote.
WE SHIP WORLDWIDE
Add the products to cart or quote and select your country to get an extimation of the shipping cost. We are able to provide White Glove Delivery service, do not hesitate to ask us for a quote.
More Info...
WELCOME DISCOUNT / 10%
Sign Up to our Community and get a discount coupon of 10% for the first order. You will receive it via email.
Sign-Up +
RETURN POLICY
You have the right to cancel this contract within 14 days without giving any reason.
More Info...
Details
Dimensions (cm)

various.
Materials & finishes

Fabric, Steel
Vitra Marshmallow Sofa was designed by George Nelson in 1956. George Nelson's Marshmallow Sofa transforms the traditional sofa into a playful three-dimensional object with eighteen colourful cushions attached to a simple steel frame. Due to the unusual form and construction of the Marshmallow Sofa, it is one of the most extraordinary sofas in the history of design. An extension element with six additional cushions can be mounted between two sofa units, making it possible to create an indefinitely extendable seat. The individual cushions are upholstered with a robust vinyl cover.
In 1935, Nelson joined the editorial staff of the 'Architectural Forum', where he was employed until 1944. A programmatic article on residential building and furniture design, published by Nelson in a 1944 issue of the journal, attracted the attention of D.J. DePree, head of the furniture company Herman Miller, Inc. A short time later, George Nelson took on the position of Design Director at Herman Miller. Remaining there until 1972, he became a key figure of American design, also convincing the likes of Charles and Ray Eames, Isamu Noguchi and Alexander Girard to work for Herman Miller. The collaboration between Nelson and Vitra began in 1957.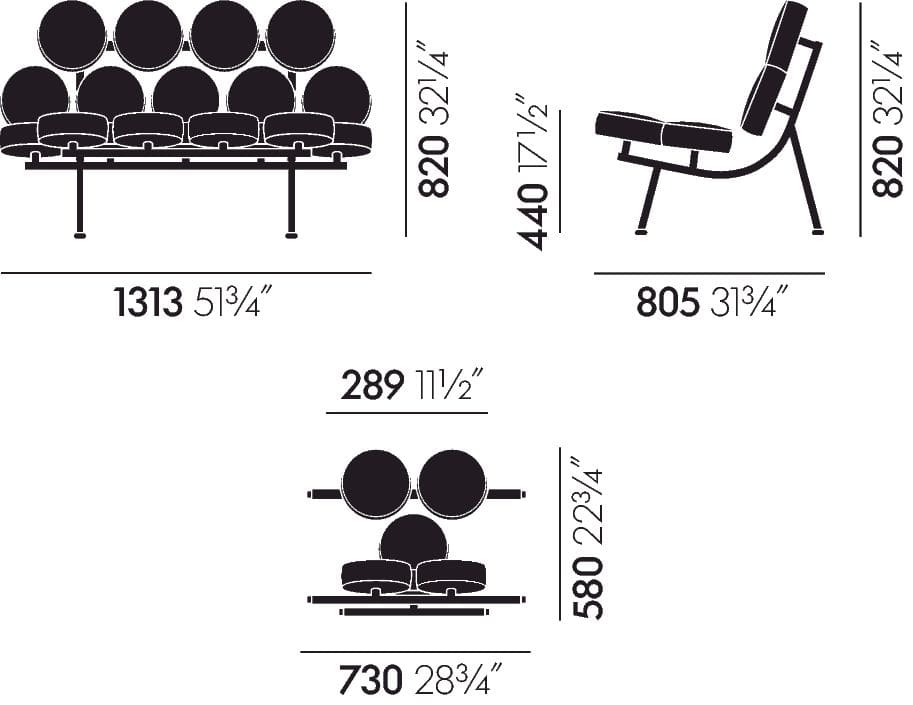 Material description
Frame: rectangular steel profiles, lacquered in black.
Upholstery: 18 cushions.
Seat height: 440 mm (355 mm with applied load, measured in accordance with EN 1335-1).
Cushion covers: vinyl in dark red, orange, green, purple and blue.
Extension element: for mounting between 2 sofas, frame with 6 cushions.