Contact us!
+39 0918400258
10am to 1pm - 4pm to 8pm (GMT+1 Italy)
Enquire about this product...
Charles & Ray Eames
Vitra

Eames Elephant Stool
Vitra Eames Elephant Stool designed by Charles & Ray Eames. Buy online at the best price or ask us for a quote.
WE SHIP WORLDWIDE
Add the products to cart or quote and select your country to get an extimation of the shipping cost. We are able to provide White Glove Delivery service, do not hesitate to ask us for a quote.
More Info...
WELCOME DISCOUNT / 10%
Sign Up to our Community and get a discount coupon of 10% for the first order. You will receive it via email.
Sign-Up +
RETURN POLICY
You have the right to cancel this contract within 14 days without giving any reason.
More Info...
Details
Dimensions (cm)

78x41xH41.
Materials & finishes

Plastic, Wood
Vitra Eames Elephant is a stool desgined by Charles & Ray Eames in 1945. Nowdays is manufactured in plastic and available to the target group for which it was originally intended: children. Whether as a sturdy indoor-outdoor toy or simply as an attractive object in a child's room, this friendly looking animal with prominent, oversized ears will bring delight to children and parents alike. Almost no other animal is as popular as the elephant. Admired for its majestic size and loved because of its gentle nature, the elephant is an everyday presence in our lives as heraldic animal.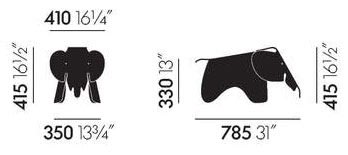 Material description
Dyed-through polypropylene, matt finish. Plywood in American cherry.