Contact us!
+39 0918400258
10am to 1pm - 4pm to 8pm (GMT+1 Italy)
Enquire about this product...
Ronan & Erwan Bouroullec
Flos

Aim Small Suspension Lamp
Price
Regular Price: $358.55
Special Price $308.35
Flos Aim Small Suspension Lamp designed by Ronan & Erwan Bouroullec. Buy online at the best price or ask us for a quote.
WE SHIP WORLDWIDE
Free Shipping in many countries. Add the products to cart or quote and select your country to get an extimation of the shipping cost. We are able to provide White Glove Delivery service, do not hesitate to ask a quote.
More Info...
WELCOME DISCOUNT / 10%
Sign Up to our Community and get a discount coupon of 10% for the first order. You will receive it via email.
Sign-Up +
Details
Dimensions (cm)

Ø17xh.14.9.
Materials & finishes

Aluminium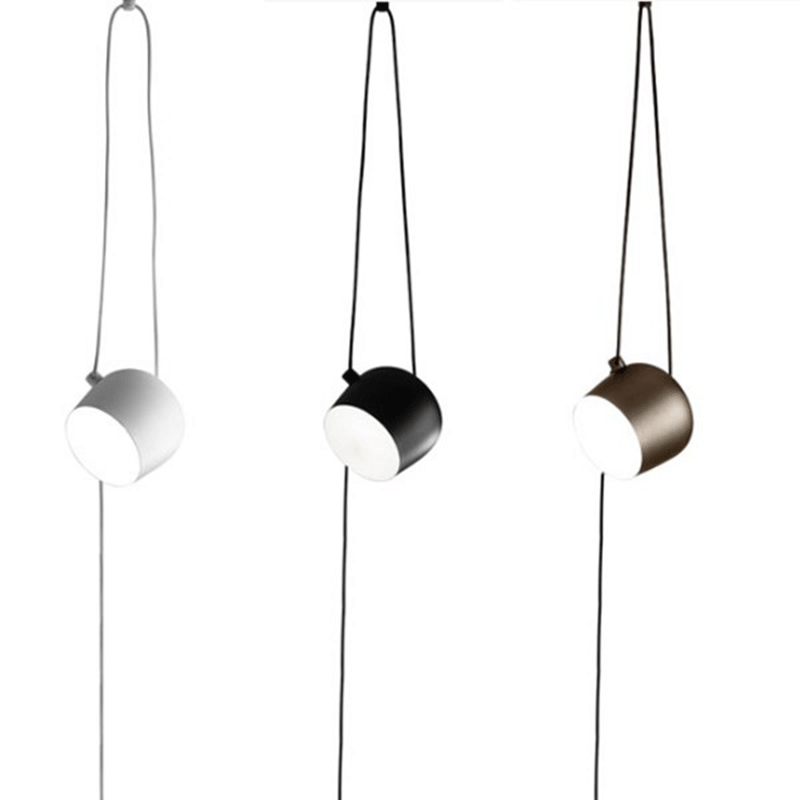 The latest project by brothers Ronan & Erwan Bouroullec for Flos challenges at least two maxims of lighting design. The first of these maxims, in terms of ceiling fittings, undoubtedly regards the geometric centrality of the light source: chandeliers must be hung up high, at the intersection of the diagonals in those geometric spaces we call rooms. However, Aim declares its independence from such reverence to tradition, proposing a system that, while suspended from the ceiling, is freed from any concept of centrality. The light can be positioned wherever desired, by hooking it up to the electricity supply on the floor via long cables. The second aesthetic and hence behavioural "breakaway" regards precisely those long cables. Anyone who designs lights has always been taught that the cable is a purely functional element, and as such it should be hidden and used sparingly. An abundance of cable, especially on the ceiling, was seen as a kind of "temporary solution". Ronan and Erwan overturn this assumption too. Not only does Aim potentially reject centrality, but it can also proliferate into a forest of cables. Cables that go up and cables that come down; cables with a clear aesthetic function. The actual reflector is, after all, less important, simply a fruit hanging from any one of the cables, at a height to be gauged, with an angle of inclination that can be altered. Aim is therefore not just a lamp, but an installation in an nutshell. Despite being a faultless industrial product, it references a philosophy of art more than the philosophy of design.
Technical description : Suspended light fitting. Body in varnished aluminium sheet, shade in photo-etched optical polycarbonate. Internal reflector in photo-etched ABS. Directionable body. Powered directly from mains. The cable has a useful length of 9 metres and thus the lamp can be suspended 3 metres from the ceiling. Wall plug version and dimmer/switch on cable. Mounting : Pendant Type of ceiling pendant : Suspension cable Lamps description : 1 LED 2700K 1250lm CRI82 - 20W Environment : Indoor Finish : Polished aluminum, White, Black.